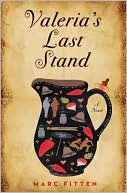 I received an arc of

Valeria's Last Stand

from Marcia at
The Printed Page
. I'd like to pass it on to a reader who wants to read this novel. Here's the synopsis from BN.com:
Synopsis
A comic romp celebrating late-flowering love in a Hungarian village that will appeal to readers of The Guernsey Literary and Potato Peel Pie Society and A Short History of Tractors in Ukrainian.
Valeria is a whale in a puddle. She harrumphs her daily way through her backwater Hungarian village, finding equal fault with the new, the old, the foreign, and the familiar. Her decades of universal contempt have turned her into a touchstone of her little community—whatever she scorns the least must be the best, after all. But, on a day like any other, her spinster's heart is struck by an unlikely arrow: The village potter, long known and little noticed, captures her fancy, and Valeria finds herself suddenly cast in a role she never expected to play. This one deviation from character, this one loose thread, is all it takes for the delicately woven fabric of village life to unravel. And, for the first time in a long time, Valeria couldn't care less. With humor and sensitivity, author Marc Fitten delivers an unexpected and entirely inspiring first novel that will leave you begging for more.
It's a first come, first served giveaway. All I ask is that you are truly interested in reading the book. I also have to limit it to a reader from the US. So, if you would like to receive this book please leave me your email and I'll contact you for your mailing info.
Giveaway is now closed